Shipping & Delivery
Our goal is to deliver your purchases to you as quickly as possible. We normally process orders within 24-48 hours of receipt, and ship within 10 days of order date. This means your order will arrive within 2 weeks of placing your order. We can expedite orders on most items, if you need something sooner please indicate in the comments section at checkout. As always, first-time shoppers are given the gift of Free Shipping on their first online order. To redeem this special offer, use coupon code: crackedglass in your shopping cart at checkout.
100% GUARANTEE - Paloma Pottery stands behind its products 100% and works hard to ensure your satisfaction - committed to providing an easy online shopping experience. Handmade pieces can vary slightly in size, color, and design. These unique differences ad to the one-of-a-kind feel of each piece. However, if you are not completely satisfied with your order, please let us know. We are happy to accommodate returns, exchanges, and refunds. Read our customer testimonials and see for yourself. You'll see why you can shop with confidence!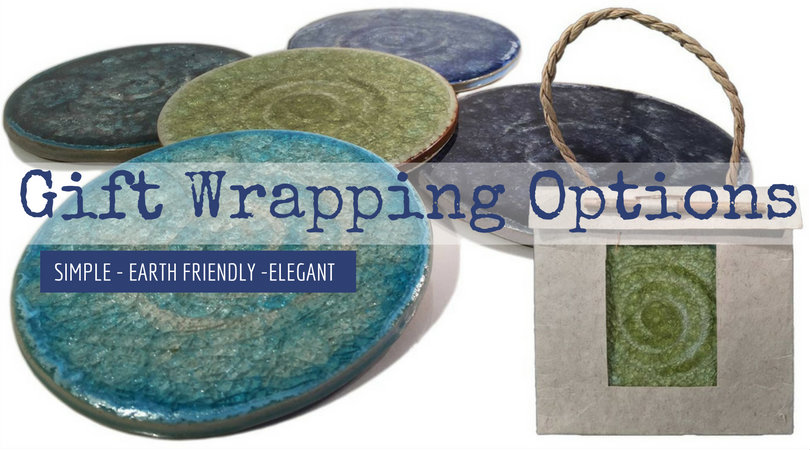 GIFT PACKAGING - Gift Boxes, handmade gift bags and earth friendly packaging options are available for selection in your shopping cart at checkout.
Gift Wrapping - Small plastic boxes filled with eco natural wood cellulose, recycled paper and finished with a raffia bow. Our gift packaging is designed to showcase each handmade item.
Eco Gift Packages - Our gift sets are created as "ready to go" gifts. No need to select additional gift wrapping. We use handmade fair trade gift boxes and gift bags made from sustainable materials from Distant Villages, natural brown and simple clear top boxes made from recycled paper.
Low Impact - Packaging designed to be earth-friendly, using biodegradable plastics and recycled paper products.
Recycled shipping materials are collected from local businesses throughout the year. Each package is wrapped with care using 75% recycled packaging collected from post-consumer waste and 25% packaging made from recycled materials. You may notice this when unwrapping your order and you can be sure that each piece is well packaged for travel.
Returns & Exchanges
We are happy to accommodate returns, exchanges, and refunds.
All exchanges and returns must be made within 30 days of receipt of your order.
Returns with a full refund will be provided in-store credit. Credit card refunds will be subject to a 20% restocking fee.
Custom, special orders, and non-stocking item sales are final.
Free shipping is provided on the re-shipment of your exchanged items unless the original order was provided with free shipping.
To return or exchange an item, contact Paloma Pottery (Toll-Free: 877-669-0783) with the following information:
Reason for exchange/return.
Item name and color choice for exchange.
Please take care in packing your return shipment, ceramics that are not properly packed stand a good chance of damage, and we will only exchange for non-damaged merchandise. If you have any questions or doubts about packing for safe return, please contact Paloma Pottery to be advised.
Bulk Orders & Samples
We provide quantity discounts on bulk orders. When purchasing samples, the sample order will go against your full order, to receive maximum discounts. Samples returned without an order are subject to a 20% restocking fee. Returns on custom-made samples are subject to a 30% restocking fee.
Any Questions?
Call Toll-Free: (877) 669-0783
Hours: 8 am - 5 pm PST